Belgian football world tackles racism and discrimination with strong awareness campaign
RBFA, ACFF, Voetbal Vlaanderen and Pro League take stock after 2 years of Come Together:
More than twice as many reports of discrimination on and along Belgian pitches: 590 incident reports in 2022 vs. 237 in 2021

85% of the reports are about racism, followed by homophobia and sexism reports

1 in 3 youth football players was the victim of discrimination
Two years after the start of Come Together, the action plan for inclusive football, the RBFA, ACFF, Voetbal Vlaanderen and Pro League are launching a new remarkable video and awareness campaign to denounce racism and discrimination in Belgian football. The campaign compares racism, homophobia and sexism to a tattoo. Every incident, of whatever nature, leaves marks. This action should draw everyone's attention to the disastrous consequences of discrimination and calls on everyone not to remain silent, but to sound the alarm at every incident.
The RBFA, ACFF, Voetbal Vlaanderen and Pro League today look back on their joint action plan against discrimination and their initiatives for more inclusion on the occasion of the second anniversary of Come Together. With the action plan, Belgian football wants to put a stop to discrimination and that is why they are now launching a strong awareness campaign to encourage witnesses and victims to report anything that is unacceptable on and around the pitch.
Racism = tattoo
Belgian football notices that many incidents are still not reported and that the impact of discriminatory behaviour is often underestimated. That is why in this campaign the consequences are made visible by the comparison with a tattoo. Such a tattoo perfectly symbolises how someone can literally be marked for the rest of his or her life by discrimination, an often-recurring element in the stories of victims. The campaign consciously chooses a child as the protagonist, because racism and discrimination often start at a young age.
The campaign focuses on three of the most common forms of discrimination: racism, homophobia and sexism. Each form revolves around a frequently used swear word – monkey, fag and bitch – which is then immortalised in the form of a tattoo on the victim's face.
"We want to hold a mirror up to people. Unfortunately, discrimination continues to happen several times a week around the Belgian football fields. Only by reporting every incident, strongly condemning it and then taking a targeted approach, can we put a stop to discrimination in the Belgian football world." - Samia Ahrouch, Inclusion Manager RBFA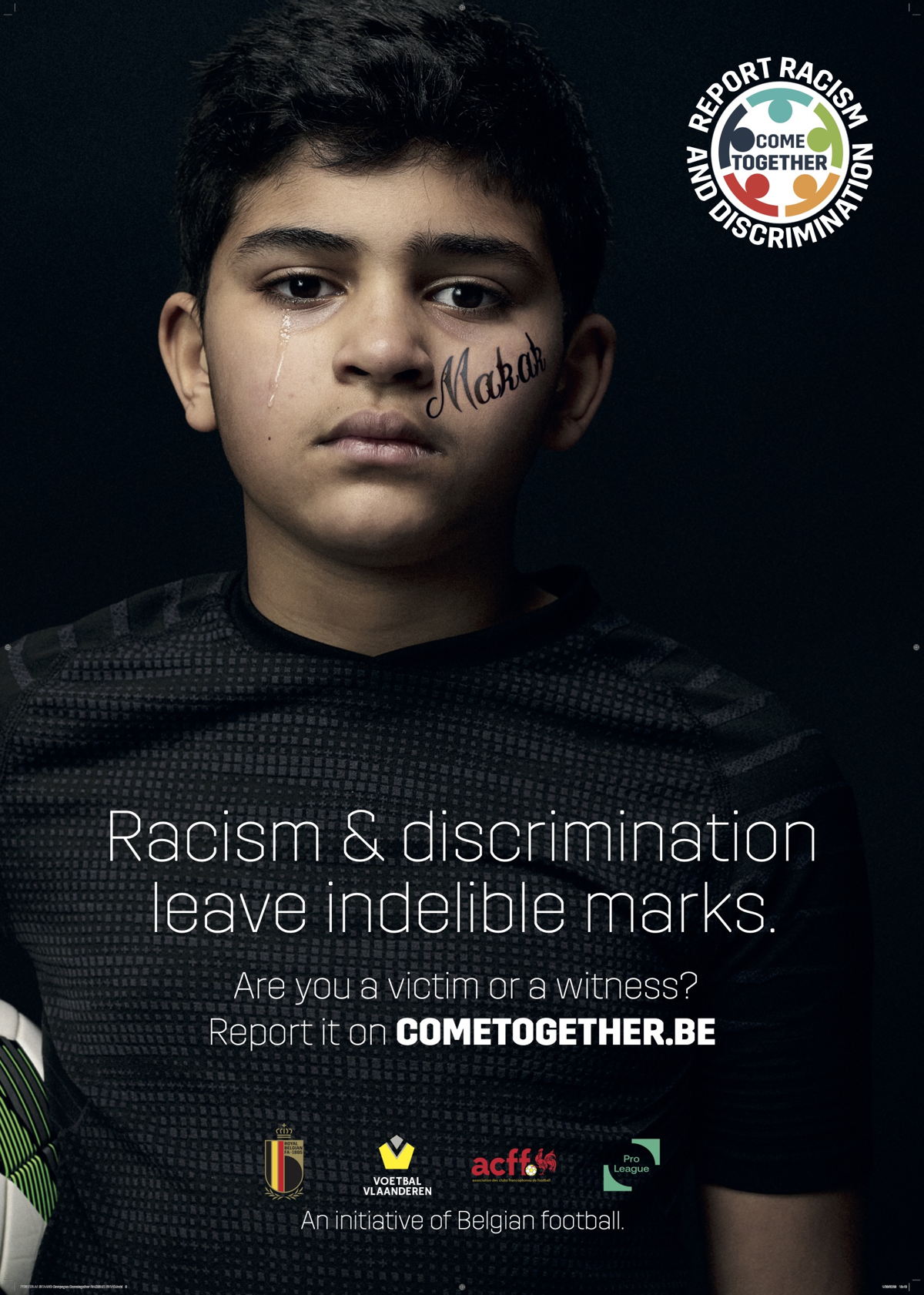 Taken from life
The swear words used are taken from real life and come from real reports from the past two years. For example, referee Nathalie de Volder, in a full-page advertisement, will call for any incident to be reported. She herself fell victim to sexism during one of her competitions, where she had to listen to statements such as 'bitch', 'go play with barbie dolls', 'your place is in the kitchen'. Cristiano Ferri will also have a prominent role in the campaign. During his playing career, he regularly fell victim to homophobia and founded his own football team "Brussels Gay Sports" for fellow sufferers.
"Any form of discrimination leaves deep traces, which is why it is important to always report it. Watching from the sidelines is not for me, so I am happy to support this campaign." - Cristiano Ferri, footballer & Nathalie de Volder, referee
More notifications
Being vigilant to discrimination in all its forms appears to be essential. Research by the RBFA and KU Leuven showed that 37% of youth football players have been the victim of discrimination in the past two years. Girls account for half of all youth players. In 2022, there were 590 reports of discrimination on the Belgian football fields. This equates to 59 reports per month*. Of all reports, 500, or about 85 percent, of the cases involved racism. The remaining 15% can be attributed to discrimination based on sexual orientation, sexism, body shaming, and religion.
All reports that come in via the RBFA, ACFF, Voetbal Vlaanderen and Pro League are screened. Lighter offenses are initially approached via club supporters, ACFF and Voetbal Vlaanderen. More serious offenses are dealt with by the public prosecutor's office and, if appropriate, transferred to the National Chamber in the fight against Discrimination and Racism. Last year, the National Chamber issued 139 rulings, with sanctions ranging from fines, clubs playing matches behind closed doors, to suspensions.
Because We Care conference
The RBFA, ACFF, Voetbal Vlaanderen and Pro League also go into the field to tackle discrimination. In 2022, the competent authorities organised 75 workshops on discrimination and racism. Workshops are also on the agenda this year. The RBFA continued to work on alternative measures, including a visit to Kazerne Dossin, together with the Pro League, or the Africa Museum, and forming partnerships with Play4Peace and Rainbowhouse. It received subsidies for this through the competent ministers Bart Somers for Flanders and Valérie Glatigny for the Wallonia-Brussels Federation.
"As an organisation, we work every day on more inclusion and complementarity to be a better reflection of society. For example, the male-female ratio is now 60/40 among our own staff and we have also ensured that various committees and disciplinary bodies have a more diverse team." - Sylvie Marissal, HR and Inclusion Director at the RBFA
On March 15, the football association organises the Because We Care conference as part of Come Together, with testimonials from three victims of racism and discrimination, with Faris Haroun (Belgian professional player of Chadian descent) as moderator and Pierre Kompany (Vincent Kompany's father) as keynote speaker. This conference marks the start of a year of raising awareness. The campaign will be repeated later this year, including in May during Pride Month and in September, which is Women's Soccer Month. All actions and updates around Come Together are available on the RBFA website.
* Calculation based on 10 effective football months, due to the winter break (December-January) and the summer break (June-July).
Pierre Cornez Press Officer RBFA