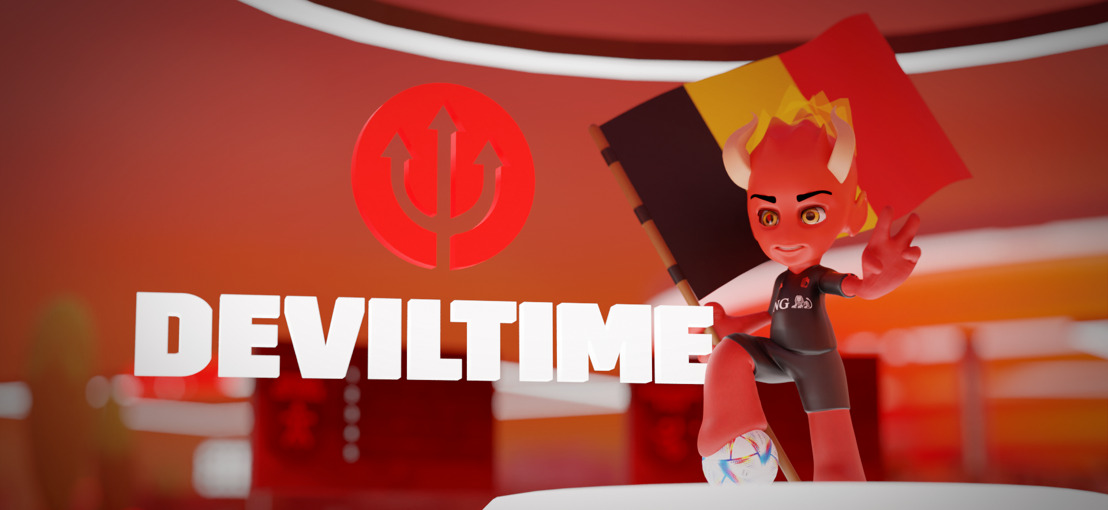 #DEVILTIME: RBFA is the first national football federation to launch its own Roblox world for young fans
Supporters can find QR codes for Devilish goodies via RBFA app
The Royal Belgian Football Association and ING have created their own universe, under the name "#DEVILTIME", for the immensely popular Roblox, a free online game that has some 220 million players worldwide. From Wednesday, the RBFA hopes to use the game to get both young football fans and young sports enthusiasts excited about Belgian football. At the same time, the nationwide search for #DEVILTIME QR codes with the RBFA app will start again, allowing everyone to collect prizes such as a PlayStation 5 console, plane tickets, a signed match ball from one of the World Cup matches and tickets to an Oscar and the Wolf concert, among others.
A large football stadium, a concert hall and several smaller sports grounds where you can run around with your digital counterpart and take on challenges. This is how to describe in one sentence the Roblox game world that the Royal Belgian Football Association, together with digital partner ING, asked the experts at Belgian company Yondr to create. The sporting challenges in the digital universe allow each player to collect points - in the form of flames and tridents - which can be exchanged in the game to give your game character a Devil outfit or to give your virtual character extra powers to finish a difficult level. In addition, every player in the #DEVILTIME universe can catch a virtual concert by Oscar and the Wolf, who created the song for this World Cup campaign.
"Through our own RBFA world in Roblox, DEVILTIME, we want to reach the younger generations in a different, innovative way. Some may be die-hard Belgian Red Devils fans, but even those who may not follow Belgian football so closely, we want to immerse them in the world of our Belgian Red Devils in this way. It is an experiment for us, new territory, but we hope to inspire a new generation to become fans."
​Manu Leroy, Director of Marketing and Communication RBFA
Popular from ages 8 to 16
​Roblox, on which some 58 million players are active daily and which has some 220 million accounts, has been around since 2006, but grew sharply worldwide during the lockdowns associated with the COVID-19 pandemic. The majority of players are between 8 and 16 years old. Within the Roblox universe, each player can choose which 'worlds' are playable, with one now dedicated to #DEVILTIME and the Belgian Red Devils for the Qatar World Cup. That #DEVILTIME world has a maximum of 32 players, but can be reproduced infinitely depending on the number of players. The most popular Roblox world has been visited a whopping 28.6 billion times so far. The Royal Belgian Football Association is the first national federation to create its own Roblox experience. The world football association FIFA also recently launched its own Roblox game, as did top international clubs Manchester City and FC Barcelona.
"When ING Belgium renewed its cooperation with the RBFA, we emphasised the digital evolution of our partnership with the Belgian Football Association. The digital aspect is essential for ING Belgium in its ambition to make banking easier and more efficient. We promised that together we would strengthen the fan experience in our joint digital channels. The creation of the virtual world dedicated to Belgian football in the Roblox metaverse is an example of this for a young audience and we are particularly proud to have contributed to its realisation."
​Laurent Winnock , Head of Communications & Brand Experience at ING Belgium
Hunting QR codes and collecting goodies
​A second digital way to get into the atmosphere of the Qatar World Cup is the national search for thousands of QR codes, which the RBFA and its partners will distribute both physically across the country, at and around the Fan Village in Vilvoorde, as well as online. Via the RBFA app, anyone can scan these codes and collect points that way. Those collected points can then be exchanged for a whole host of Devil goodies, including several top items. For example, you can get your hands on Samsung smartphones, a PlayStation 5 console, plane tickets for two to a European destination via Brussels Airlines, a match ball signed by the Belgian Red Devils during the World Cup in Qatar, as well as home shirts signed by the Belgian Red Devils, but also, for example, duo tickets to an Oscar and the Wolf concert or a coffee machine from Rombouts. During the Red Flames' European Championship, the RBFA already organised a similar QR-Codes savings campaign, which meant no fewer than 40,000 QR codes scanned, accounting for more than 3,000 items handed out. Those who do not yet have the RBFA app on their mobile device can find all the information and download links here.
---
Pierre Cornez Press Officer RBFA
Renaud Dechamps Spokesman & Media Relations Manager ING Belgium

Ken Standaert Team Lead/Senior PR Consultant Bepublic Group